General information about the Scandinavian Christmas Fair,
Raleigh, NC, Dec. 2nd, 2023
Kerr Scott Building, State Fairgrounds
Welcome to the home of the Scandinavian Christmas Fair of Raleigh, NC!
The Scandinavian Christmas Fair is an authentic celebration of the traditions of the Scandinavian countries of Sweden, Norway, Denmark, Finland and Iceland. This Old World celebration is certain to get you in the spirit of the season.
This year marks the 27th anniversary of the Julmarknad (Christmas Fair in Swedish), which attracts people from Scandinavia and of Scandinavian descent from all over the east coast as well as many Americans that have made this an annual tradition.
We would like to thank all our visitors to the 2021 fair for helping us make it such a spectacular event. Approximately 2500 adults and children enjoyed the exhibits, entertainment, food and huge array of sales items from Scandinavia! We truly appreciate our generous sponsors and the wonderful vendors with their wares from all over Scandinavia. It was a pleasure to see so many Scandinavians and Scandinavian-Americans pulling together to arrange the Julmarknad, manning the booths, cooking and serving food and coffee and entertaining our guests with dancing, singing and showing off their beautiful costumes. It got crowded at times, but that's part of the experience and everybody was having a great time!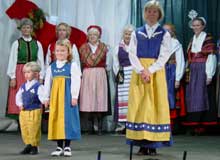 This year, the Scandinavian Christmas Fair promises to be even better as the word is spreading around the area about this event. Just as in 2019, the event will take place in the Holshouser Building at the North Carolina State Fairgrounds. Please see the "Directions" page for a printable map.
The Julmarknad always features a variety of homemade foods, such as Swedish meatballs, salmon and pea soup. Be sure to visit the "Coffee Corner" for coffee and wonderful home baked pastries! Talented artisans and vendors offer everything from knives and quilts to crystal pieces, jewelry, homemade bread, Christmas decorations and more!

There will be something on stage the entire day! In addition to nationally acclaimed Scandinavian and Scandinavian-American performers, members of the local Scandinavian community will demonstrate traditional folk dances and play folk music. There will even be a "fashion show" featuring the beautiful folk costumes of the Scandinavian countries. For many families, the highpoint is the Lucia procession. This singing procession of boys and girls celebrating the season of light is a memorable experience and not to be missed. Check our "Programs" page for a complete listing of this year's entertainment.
Several local Scandinavian organizations are represented at the fair, and there are always plenty of opportunities to learn a little more about the people and customs of the Scandinavian countries. You might even pick up a few words in a local tongue and develop a taste for that traditional herring!
The Scandinavian Christmas Fair is sponsored by Vasa - a Swedish-American organization. The proceeds from this event go toward scholarships and to support local Swedish and Scandinavian initiatives.
Entrance is $7 for adults and free for children 12 and under.
For more information please send us an e-mail at info@scanfair.org
See you there!